Mike Tilling
Arts Correspondent
12:16 PM 14th December 2020
arts
Alexa De Strange – In Rehearsal In Scarborough
"Rock is about power, passion and emotion" - Brian May
The Scarborough based metal band, Alexa de Strange, live the Brian May definition. Their play list is replete with powerful pieces that are delivered with passions (even if I was only seeing them in the rehearsal room) that evoke a range of emotions.
Each song has an individual feel that bodes well for listening pleasure when their new album (
In Extremis
) is released in 2021. Lead singer Francesca Santamaria is also working on a book that will accompany the album. Like many of the songs, it will be autobiographical and reveal something of her life in the music industry. The intensity with which her eyes fixed me when outlining this addition suggests that the revelations may be explosive.
Francesca and bass guitarist Shannon Lee write the material for the band, though all band members make contributions. Their pedigree extends to working with the likes of Suzi Quatro and Toyah. Before Covid (can we revise timelines and make it the new BC?) they were set to tour with Marco Mendoza of Whitesnake and Thin Lizzy – you can guess what happened to that aspiration.
However, the band hope to be on the road in June next year after playing venues in Scarborough.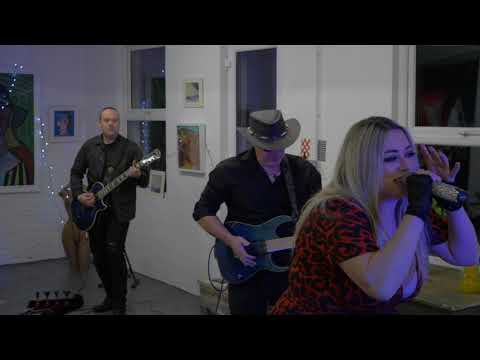 When I walked into the rehearsal room they were already playing one of my favourites: 'I Am Monster'. At the chorus 'You created a monster' I felt a twinge of guilt. As a music lover I wondered whether my demands on performers have forced them to fit the mould of my expectations. However, there was no time to reflect further as Mike Cutler on keyboards opened with the carnival sounding introduction to 'Whiteout'. Mike and Francesca also duetted on the track 'In Extremis'.
Although not present on the rehearsal evening, lead guitarist Stuart Moir can be sampled on Youtube playing 'Bleed', along with the rhythm guitarist Bill Charlton. The two together insistently drive possibly the heaviest of the numbers I saw.
Ensuring the rhythm section does its job, and keeping other players honest, is drummer Chris Lawrence. Everyone knows the key role drummers have in rock music, but because they sit at the back, they often go unacknowledged. Apart from celebrity drummers like Ginger Baker or Cozy Powell, most are happy to keep it that way.
Alexa de Strange are a committed unit that has no ambitions to scale the heights of the epic. They offer honest rock music that features a remarkable lead who thrills with her range and control. They are rooted in healthy technical ability.
At last, I was able to hear some live music. It is now months since I realised how important this is to me and I suspect there are fellow sufferers all over the country. It is no consolation to learn that performers feel equally bereft.
We need each other.