arts
Interview With Eurovision Hopeful Malik Harris
While Michael Schulte took Germany to fourth place back in 2018, it would be fair to say that Germany have had a fairly rough ride since Cascada landed in 21st place with the pop classic
Glorious
. Having internally selected Jendrik via Tik Tok for the 2021 contest, being rewarded with 25th place for the chirpy
I Don't Feel Hate
, they returned to a national selection this year. The winning entry came from Malik Harris, who released his brilliant debut album just last year. Could his entry,
Rockstars
, see Germany return to the Top 10?
We caught up with Malik Harris to find out a little more about him and his entry...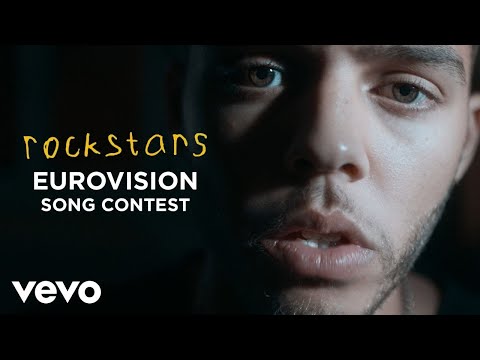 Hi, first and foremost, how are you?
Hi there! I'm doing great, thank you! These are incredibly exciting times and I'm just enjoying this whole crazy ride and absorbing as much as I can from it.
What an exciting 2022 so far... You must be thrilled with how it's playing out. What's been the highlight?
Oh definitely! It's actually hard to pick one single highlight to be honest. I'd say what I loved most so far was the contact with my fans! It's so beautiful to see the love in their eyes and to talk with them about their experiences and feelings regarding my music and how my songs have helped them through some difficult times in their lives. And of course finally performing on stage again in front of actual fans in the actual same room has been absolutely amazing as well!
We absolutely love Rockstars. Tell us a little about the process behind the scenes in creating the song?
Thank you so much! I wrote
Rockstars
after watching an episode of my favourite US-show 'The Office' and hearing this quote: 'I wish there was a way to know you're in the Good Old Days - before you've actually left them.' That moment was so intense for me, I immediately started crying and, after wiping away my tears, also writing this song. It's about the 'Good Old Days' of my childhood and youth, those lighthearted, mindless times when being happy was so easy and unconditional and how we all somehow leave those times behind at a certain point and get caught up in thoughts, doubts, our everyday lives and so on and so on. The realization of somehow having left those good old days was very painful but also made me recognize something, which led me to the message I'm trying to convey: I want to remind all of us through this song hat we should stop always looking for the good old days in the past, but rather try to find them in the present, right here and right now, because they actually never really stop - we just have to change the way we're looking for them. I feel like it's typically human to always see the good things after they're over, but I think that we should change that and focus on finding the little wonders that are always around us, as we did when we were young. Because if we manage to see the good things even in the darkest days, then the 'good old days' never really end.
If you had to file it between two other songs, what would they be and why...
Oh that's a great question! I think I'm gonna go with
Car Radio
by Twenty One Pilots, because I thought a lot about how Car Radio made me feel as a listener while I was writing
Rockstars
. Both songs tell a personal story about a lot of feelings like worries, doubts and overthinking while also somehow providing some hope and positivity despite the darker sounds and lyrics.
The other song would be
I Miss The Days
by NF. It's also a song about reflecting and thinking about our childhood and how we all leave the simplicity of life as a child behind. My favorite line is 'riding my bike, just riding my bike, not overthinking my life, not always wondering if I'm a likeable person or someone that nobody likes'. I think it perfectly sums up what
Rockstars
is about in a beautifully plain, simple and relatable way.
You are on countdown to Eurovision. How are preparations going?
They're going great, thankfully. I have the honor of working with Marvin Dietmann on my stage setting and he and I are on the exact same wavelength and have the exact same visions when it comes to my performance on stage, so us working together is just super organic and a lot of fun! Haven't had too many rehearsals to be honest but the ones I've had so far all went pretty smooth, plus I've sung 'Rockstars' about 19 billion times in the last couple of weeks so I feel very prepared.
How are you finding the pre-parties?
Oh I freaking love them! It's such an amazing experience travelling around the world, playing my songs to thousands of lovely fans in places I've never been to before, getting to know all the other artists and making a lot of friends, enjoying their live performances and of course, partying with them after the shows! It's all been an absolute blast and I'm forever grateful for this experience.
You are getting to see your competition up close, who have you been getting along with best?
A lot of them, actually! I feel like we're all not so much competitors as we are a group of friends on a school trip or something. My closest buddies are probably We Are Domi, my bro Jérémie Makiese, Sam Ryder and Andrea from North Macedonia.
Who do you feel is your stiffest competition?
I'd say probably Sam Ryder. I absolutely love him as a person and his song
Space Man
is such a banger! It gives me those old school Elton John - Queen vibes and his vocals are just perfection.
What can we expect from your Turin performance?
Well I can't say too much, otherwise my team would probably kill me! But what I can tell is that it's going to be very intimate, raw and close to the audience. I want to convey the message of my song and I want the music and the emotion to be the main focus, so I decided that there shouldn't be too many 'distractions' on stage but rather a stripped down setting where I can tell my story straight to the people. Kind of like Duncan Laurence did in 2019, there weren't too many things going on on stage, and that made the emotions of the song be the focus of the performance, and I think that's what would suit my song perfectly as well.
What is your Eurovision ambition?
For me personally, the most important thing is to enjoy the whole Eurovision journey which I thoroughly am. I don't really see it as a competition per se but much more as a huge international music festival where I have the great honor to play my song and to represent my home country of Germany. So my ambitions are mainly to have fun, to take in as many positive memories as I can and to make some new friends along the way.
We really hope there is more music coming soon. Have you got a follow up single ready?
Thank you guys. Oh yes I have, 2 actually. I haven't decided which one I'm going to release but whichever one it's going to be, I can't wait to share it! After picking one probably before May, we'll be trying to find time to shoot the music video and as soon as that's wrapped, I will drop the track - probably before July.
And lastly, aside from Eurovision, what other 2022 plans do you have?
My main plans for this year are definitely live shows, live shows, live shows! There's nothing I love more in this world than playing my songs live and after these 2 covid years I just cannot wait to be standing on stages again! So 2 days after Eurovision, my headliner tour, which has been postponed 4 times since 2020, finally begins and after that there are several more shows and festivals this year, so I'm just super hyped and excited!
Thank you for having me! X