arts
Interview With Eurovision Hopeful The Rasmus
There is no doubt that The Rasmus had no idea that their school band, formed back in 1994, would end up representing their nation at Eurovision near 30 years later. Having sold over 5 million albums worldwide, The Rasmus may still be best known for the epic anthem, In The Shadows, but with nine albums already under their belt and a tenth soon to arrive, they land in the world of Eurovision as the biggest act of 2022.
We speak to vocalist Lauri Ylönen about the band's plans.
Hi Lauri, How are you?
I'm good. It's nice to be in Italy.
How is it all going so far?
Good. We had our first rehearsal and it wasn't as catastrophic as I thought it would be! We've changed a lot of things in our show for this Eurovision thing. It can be tough for everyone. The camera crew have 40 different shows they have to learn. Considering that it went really well. It's a great venue, a nice size - compact. It's about 5000 people. It;'s going to be great.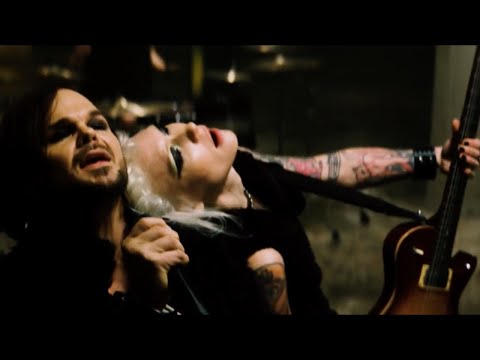 You are one of Finland's biggest musical exports. What drew you to Eurovision this year?
A lot of things. Our fans have been asking for ages. They wanted to know when The Rasmus would take part in it, so they planted the seed a long time ago. Of course, Finland has done pretty well - last year they were sixth with a rock band. In 2006 there was the monster band, Lordi, with the costumes. It's kind of a big thing too. It's actually the second most watched show on TV. The first is the independence party at the President's House. It's a big thing to be in the national finals, the UMK. There was also Covid, which stopped us doing anything. It was a really boring two years just figuring out how to survive. I came up with an idea last summer to be a part of it and at the same time I wrote a song that would fit the format. It has this very Rasmussy feeling that is kind of hopeful and uplifting, but at the same time it is melancholic and sad. That's our little secret to it.
We all know that you are amazing live performers. What can we expect from your performance in Turin?
Well, it's a good chance to make a big show and we are planning to do that. Also we are wanting to be close to each other on stage. We could go really wide, but we want to keep the connection between us as members of the band. Showing our chemistry to the viewers is the best thing we have to offer. That is the beauty of this band. We want to show people that we really love what we do and we want them to feel part of it, to feel our good vibes. That was part of our plan when we started piecing together our show for Turin.
You've had a chance to meet the Eurovision community at some pre-parties. How did you find them?
We went to Amsterdam and Madrid. Both were great. Very crazy. There are all the acts on during the same night. Everyone does just one song and changeover is a maximum of 15 seconds. Things were falling apart and going wrong, it was catastrophic - but you have to have the mindset that this is a different kind of night. It's not your own concert. It's a special night for the Eurovision fans, so you just go with the flow and see what happens next. You have to be spontaneous. It was chaotic and fun.
It was also amazing to just be in the same space with all these people from so many different countries around Europe. In one moment there were people from 30 different countries in Europe and because of the situation in Ukraine, it felt really emotional and beautiful. It was good and bad at the same time. There we were together, the vibes were good. The Ukrainians were there too. We know them quite well now. We've spoken many times and have also made plans to do some music together. It's so good to have this thing happening right now when the world is a mess. It brings countries together and unites us, just like it was supposed to do after World War 2, when Eurovision first happened. We just hope it brings some joy and support to people by us coming together to do this.
Do you have a specific Eurovision goal?
I think number 14 sounds good... NO! Number 1! Come on! Why wouldn't it be number 1?? It's a competition!
As a band you have more than proved yourselves time and again, how do you feel about the competition element on Eurovision?
I was afraid of it at first. I was against it years ago. I used to think you couldn't compete in music and art. I don't think the same any more. I just don't take it so seriously anymore. We've already won as we are here in Italy playing soon in front of 200,000,000 people. That's a victory in itself. But the fact it's a competition really drives me. It feels like I am going somewhere. I really like it. I always had these visions of certain destinations and that's always created good things, it's helped me gets things done in my life, and I lost that during Covid. It was very uncertain as to when we'd be able to perform again on a stage. It makes you question what is going to happen to you. After that it feels great to have a schedule for the next six months, knowing where we are heading and now here we are in Italy.
We have heard there is more material coming soon. Tell us more...
There are a lot of things happening. I just came back from Nashville, where I was finishing up the last three songs for the album that's coming out after summer. We have plenty of new songs and videos coming soon, for the fans to look at and listen to. The UK tour starts in October and the tickets are now on sale at
www.rasmus.com
It is really good to come back to the UK. We have such good support there. We have played all over the country, pretty much every year since 2003, when In The Shadows came out. We have the most wonderful dedicated fans who have followed us to the weirdest of places in the world. We've seen UK fans in India, Japan and the US. They have really spent a lot of money and taken a lot of time off work and school to be there with us and share that lifestyle. There are people who have come to more than 100 shows to see us. We know these people really well. They've become friends to us and it feels really good.