arts
Interview With Eurovision Hopefuls Subwoolfer
Norway can be counted on at Eurovision to deliver an anthem. This year is no exception. Having beaten out competition from a1's Christian, NorthKid and Elsie Bay, their act this year is the pop phenomenon Subwoolfer. With rumours behind the masks are either a1, Donkeyboy or Ylvis, the trio deliver an earworm anthem that will have all generations bopping. While we couldn't care less who is actually behind the masks, we are firmly hoping this trio goes a very long way at Eurovision. We caught up with them to learn a little bit more...
What an exciting 2022 so far... You must be thrilled with how it's playing out. What's been the highlight?
Highlights been that so many people really like our song! But we do understand that people have been waiting for a song like this, with such substance and meaningful lyrics, that even can save lives!
We absolutely love Give That Wolf A Banana. It's a proper pop earworm. Tell us a little about the process behind the scenes in creating the song?
When we first heard about the problem here on earth that wolves were eating grandmas, we decided to take immediate action. If you give the wolf a banana, you don't have to be afraid for your grandma anymore!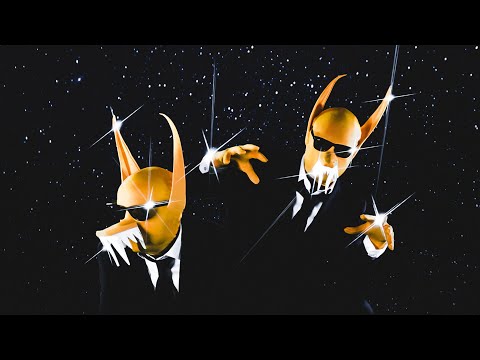 If you had to file it between two other songs, what would they be and why...?
Oh, the other songs we could file it between have no earthly names yet they are simply not audible or readable yet! But hopefully we can launch those names soon, looks like the earthlings are ready for more music from Subwoolfer.
You are on countdown to Eurovision. How are preparations going?
We are preparing for Eurovision around the clock - we are just so super excited! ! Just follow us on instagram and TikTok, we are posting new things everyday!
How are you finding the pre-parties?
The pre-parties are amazing! People know our song and they dress up as us! We almost brought the wrong Jim back to our spaceship when we were right in Amsterdam.
Who do you feel is your stiffest competition?
We fear the other participants that can do our dance. Chanel was pretty good!
What can we expect from your Turin performance?
Everything is bigger in Turin, so bigger stage, bigger screens, bigger steps and bigger bass!
And lastly, aside from Eurovision, what other 2022 plans do you have?
We really like it here on earth and we hope that we can stay here for a few million years, and travel around the globe to perform at all the other big stages too.