arts
New Music: Never Mind The Lockdown - Listen To The Mystic Shed
While we keep hearing creativity is booming during lockdown, it's not much good if you don't know about it. So getting a tip off about exciting new music, almost literally underground, felt like being invited to look down the rabbit hole. Or in this case into the shed, The Mystic Shed.
This wildly appealing duo, drummer, Kit (yes really) and singer Tom Jones, (yes really), created the Shed a few years ago in 2016. Only 19 and 20 years old respectively, they already have enough gig time behind them to claim the stage and their position as ones to watch.
The Mystic Shed are incredibly talented, incredibly noisy; to watch them live is an exciting experience. Not only is their version/expansion/explosion of rock innovative and exuberant, it's clever and witty. Technically brilliant but just wild enough to keep you smiling at it's unpredictability, stunned at the volume and infected by it's abandon.
They are confident on stage. Apart from their dangerously frenetic musical riffing, Kit has a store of bizarre and weirdly compelling stories that he delivers from behind the drums, mid-gig. A night with The Mystic Shed is a strangely satisfying experience.
Well supported in their home county of East Sussex, the boys now have their eyes on expanding The Shed.
I caught up with the band.
Can you introduce yourselves?
K: I'm Kit, I think I'm 19, I am batteur and commentate during performances, we've been a band for six years and been performing publicly for three or four years. I think we formed the band as something to do and because we enjoyed hanging out and messing around.
T: My name's Tom 'Larry Legs' Jones, I'm 20 years young, and I do the guitaring and fiddle with amps. We were friends at the same secondary school and Kit lived down the road from me. I think we first met in our primary school's book club - how rock and roll.
How did the band form?
T: I knew Kit played the drums and I could just about manage to do a power chord on guitar, so we jammed in his bedroom and it all went from there really. It was just something fun to do over the summer, I think we started then?
K: In my mind it all began with our acapella cover of 'Bees' by MrWeebl.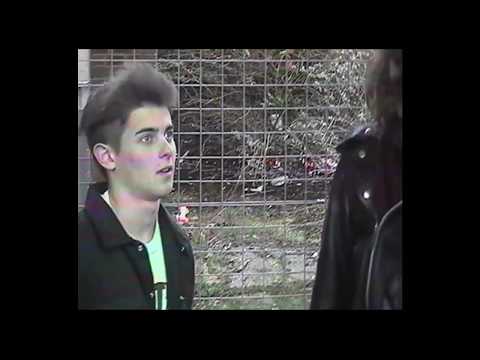 What sound did you set out to create with The Mystic Shed
K: I don't know if we were aiming to make any particular sound, maybe just to make a racket, which is what we're still trying to do. When we formed the Shed I was into Sum41 and Nirvana, Thomas was into much cooler bands like Status Quo and Sabbath.
T: Jamming meant we could make a heap of noise and make each other laugh. Yeah, I had a pretty limited musical palette back then, it was pretty much the 70s rock stuff my dad liked. We weren't into similar stuff initially, but we'd share music and bands that we'd find with each other and over time we've grown to have a common approach to music liking many of the same bands. I don't think we had a specific sound in mind (apart from being loud).
Why the name The Mystic Shed?
T: I can't really recall, though I can remember I was eating crisps in the garden at the time it came to me.
K: I think it had something to do with psychic abilities and the print room woman, but whether that's the case I'm not sure...
What was your first track? What was your first gig?
K: Our first real track with vocals and everything was called 'Natural Bitch' and our first gig was in a local cafe - No.48 cafe; we were too loud, if it wasn't for our friends and family there wouldn't have been many people left in the audience!
T: Kit's a big fat liar, our first gig was the school's summer fayre. Our set was a monumental three songs long, though it was so bad it probably doesn't count. I played some very questionable boogie piano halfway through - maybe that's what our band is missing.
K: I'm not a big fat liar. Our first public gig was at No.48 cafe. The summer fayre was pretty shite and a strange man took photos of us.
T: Oi, we can debate the definition of public till the cows come home, but there were definitely members of the local community to witness us and be disappointed. So shut it.
Can you explain the timeline from then to now?
T: After another gig or two, we got involved in the Eggtooth Project, which gave young musicians in Hastings support and a platform to have a boogie. From there, we got a couple more gigs with other musicians and in a way made a subscene. We built momentum during college and all the gigs we did helped us figure out what not to do, and how to get through a gig without something going wrong.
In that period I don't think I ever had a gig where something didn't break! We met Doc Savage who, from quite early on, gave us invaluable support and recorded our EP in 2018. I think our EP launch gig was a turning point for me, it was an amazingly fun and happy gig, and I think it made me realise that there are actually people out there who could enjoy what we were doing. Since then we've ventured further afield, our gigs in Margate and Canterbury were really good fun and we got to meet some lovely people. Supporting Kid Kapichi was a big gig for us. Since last year we've been studying at university, and we've been at a more leisurely pace. We're on different campuses so it's been harder to rehearse, but we've still managed some gigs.
How has your music and performance evolved since the start?
T: I pretty much couldn't play guitar in those early jams, so it was lots of power chords to begin with. It was quite punky and raw, but over the years we've become more technical and dynamic, and our tastes in music have developed which comes through. I've basically learnt to play guitar with Kit, so we've become quite in tune with one another and communicate within an astronomic melody realm. Hopefully I'll catch up to Kit's skillz one day and he'll let me in his band.
K: I think Thomas regularly becomes possessed by the spirit of math-jazz and actively defies mes talents de batteur without his realising. In the beginning all I could play was your classic boom bap punk beatz at like 60BPM and when we performed I never spoke, I just tried to look edgy. Then I discovered King Gizzard and the Lizard Wizard, then I discovered some jazz, then I discovered good jazz like Moses Boyd and Horace Tapscott, I got involved in my mum's amateur swing band (praise be muvver Clair) and Thomas got into funk.
So then our music took on this weird jazzy-funky edge whilst still being punky; at some point we started actually talking in gigs and discovered that fucking around on stage is fantastic. Then I discovered noise rock like Lightning bolt, math rock like Hella, I discovered avant-garde music in the churches of Canterbury; I've tried to like digest as much of that as possible and sick it all out of my arms when I drum. It turns out that all this time Thomas has been doing his own crazy evolution into a 70s prog-lord (complete with brown cord flares), so now our music sounds like being hit by elbows and knees at infinite BPM.
How would you describe your sound?
T: We both struggle with this one. It can get rather loud and fuzzy, yet I find myself wanting to be distanced from the 'rock' label. In a recent writeup we've been described as avant-garde; admittedly I like the title a lot, but I don't think we're weird enough for it yet. We've been writing more challenging material though, heavy Beefheart comes to mind. We used to use freak-rock as a descriptor, but I'm not sure if that helps people understand what we do. Then again, I don't understand what I do, and I'm me. Who knows!
K: We always find it quite hard to describe our sound, I always tell people our music is "a chilled loud", it has moments of seething cacophony and moments of relaxed-ness, it has moments of intricacy, but generally it's all quite loud.
What can you tell me about the stories Kit tells on stage?
T: They usually came about when something went wrong with my amp, and it would take five minutes to sort it out; something would have caught fire or fallen off and Kit developed these brilliant stories to try and cover me while I floundered around in the dark.
K: There are always stories now and they're always different. It's really strange because if you have a microphone and you're on stage, people just listen to you and do anything you tell them to do.
Isn't that an abuse of power?
K: It's not an abuse of power if it's given to you.
T: Yeah but you've got people to go and get you water and stuff.
K: Yes I have got people to get me a cup of water.
Finally, what have you got planned next?
T: Once I've finished university, I'll probably go back to Hastings until Kit finishes his degree, or stay in Canterbury with him till it's done. We want to start a commune at some point, maybe in France.
K: I think I'm going to make dinner, I bought some oat and raisin cookies earlier so I guess I'll eat them ... After that we'll probably crack on with the commune and begin the anarchist revolution.
https://www.instagram.com/themysticshed/
https://www.facebook.com/themysticshed