arts
Tamara Todevska
Tamara Todevska is no newcomer to Eurovision. Back in 2008 she represented her home country alongside Vrčak & Adrian, before having already appeared as a backing vocalist forToše Proeski in 2004.
Her last appearance came half a decade ago when she performed as a backing vocalist for her sister, Tijana Dapčević.
Finally returning as a soloist, she hopes to do North Macedonia 'Proud' with her powerful song.
For those not in the know, tell us a little about yourself...
What can I say about myself? I have been performing since I was six years old and actually, one of the main reasons why I am doing what I am doing is because of Eurovision.
I was six when I watched Carola win the Eurovision Song Contest in 1991 and I remember telling my parents – one day I will be just like her.
My whole life I have been surrounded by music.
My mother is an opera singer at the National Opera and my father is a professor at the Academy of Music in Skopje. And I am sure most of you know my sister Tijana, who represented our country at the Eurovision Song Contest 2014 with the song To the Sky.
What appealed to you about entering Eurovision?
Eurovision is so much more than a music festival. Eurovision is all about accepting the different, defying the norms and being proud of who you are, just the way you are.
Eurovision is that one night in the year when the entire continent comes together to celebrate boldness, bravery and individuality. It is the place where being different means being PROUD.
How did you feel when you found out you would be representing North
Macedonia?
I had just given birth to my son when I got the invitation to represent my country at this year's Eurovision Song Contest. I said immediately mostly because I feel that I am more mature now, more experienced and I got much more to say.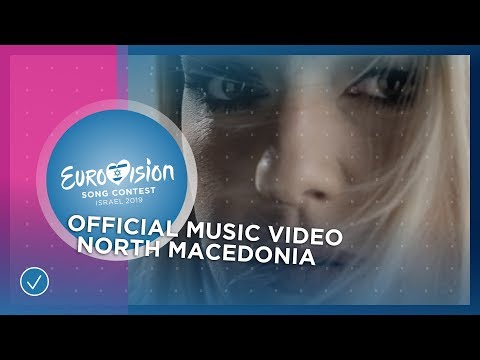 Your song is called Proud, tell us about it...
The song is dedicated to my daughter but it is a song about everyone out there fighting for their dreams, believing in their dreams and not giving up on them.
I am a mother of two: a three-year-old girl and a three-month-old boy. I know it sounds like a cliché, but they truly changed my life and I feel, both, as a mother and as a parent, that it is my responsibility and OUR responsibility to bring positive change to our children's lives.
My whole life I have been told that I wasn't girly enough, good enough, that I walked and acted like a man. Lower your head, put something sexy on, no one cares what you really think, they would say. You see, in their minds, I was just another lost girl.
Today, as I look at my daughter, I want her to grow up in a world where people will not judge her, tell her how to act, smile and move. I want her to know that she doesn't have to follow the rules to be accepted. I want her to be whoever she wants to be and most importantly, be proud of who she is. That's the least I can do for her.
What is the best feedback you have received as yet?
I think everyone has the same feeling when listening to the song – I got goosebumps and I am crying.
Have you listened to your competitors yet? If so, which is your current favourite?
So many amazing songs this year and I can't wait to meet all the amazing artists representing their countries.
Have you spoken to any past entrants? If so, what advice have they had?
I have already performed at Eurovision so I am not worried nor stressed about
performing. Those 3 minutes are the most magical minutes I have experienced in my professional career and I can't wait to get back on the stage.
What is your favourite Eurovision entry of all time?
There have been so many songs and so many amazing performers at Eurovision and all of them have, in a way, have defined me as an artist and as a person.
If I had to pick one, and this is only because of my emotional attachment to it, it would definitely be Carola's Fångad av en Stormvind.
Watching her perform was a truly defining moment in my life and my career.
Which previous non-winning entry do you feel really deserved the crown?
I think everyone that has ever performed on that stage is a winner.
What do you hope to achieve with your appearance at Eurovision?
I just want to inspire people to be proud of who they are and encourage them to not hide their greatness.
What is success for you in the contest?
I am already beyond happy to be representing my country and I can't wait to showcase what we have prepared for you.
Lastly, if you could duet with one past entrant, who would it be?
Carola, no doubt!