business
The Business Interview: Kirsty Henshaw
It's déjà vu. Kirsty Henshaw, founder of Kirsty's, the 'Free From' range of foods, appeared on my TV screen during the break in an ITV programme last night; this morning she is back on my screen albeit my laptop, as we are meeting over a zoom call.
The one thing you instantly pick up about Kirsty is that she is incredibly dedicated, enthusiastic, and hard working.
Plus, she has a great and inspiring story to tell; don't take my word for it – she won over Peter Jones and Duncan Bannatyne when she appeared on the BBC 2 programme Dragons' Den.
"The idea for the business started in 2006. My son was 9 months old. One day he had an anaphylactic shock caused by a trace of peanuts that I had passed on.
"It was then that I realised just how serious allergies were. I was 19, relatively young and new to being a parent and this was a really hard awakening," Kirsty says.
She explains that she has always been entrepreneurial not knowing what to do. Impressively she had started many different ages between the ages of 15 and 17.
"I always had the dream of working for myself. I come from a working class background and aspired to have similar lives to my friends at school. "
When Kirsty's son had his allergic reaction, she started to create food products for him at home, starting with ice cream the product she took onto Dragons' Den when he was 4 years old.
The food sector is huge and I am intrigued to find out she managed to find her niche.
"I knew about nutrition. I was always interested in it and I knew the market quite well because by this time my mum and stepdad had a little health food shop in Preston. I noticed that when a new healthy food product concept appeared it would be a year later when the bigger specialists like Holland and Barratt picked up on it, followed then by Tesco before the rest of the market caught on.
"I saw the emerging trends such as vegan or gluten free before they became mainstream products.
"So, by observing those trends, I started to pick up knowledge and working out what would be the next big thing. We also lagged behind USA and Australia."
However, Kirsty may have had all the market trends knowledge but was missing the crucial ingredient – money.
Where others may have given up this was not an option for Kirsty. One of the words in her personal lexicon is determination. She was going for it and, with the embryonic idea beginning to grow in a small business unit in Lancaster.
Not deterred Kirsty decided to start at the top. Why wouldn't she? She arranged a meeting with one of the biggest supermarket chains - Tesco.
"I gave an amazing presentation. One of the things I've learned is always look bigger than you are. Which is quite ironic.
"Tesco was interested, and I would say things like, 'I can ask Jenny in logistics and Sandra in Sales to sort that out'. Of course, all the emails addressed to them would come back to me. I pretended I was much bigger. The Tesco team said my products were amazing and we want them in 500 stores. Can you achieve that?
"Well of course, I continued along the same lines indicating that I would get Johnny in finance to sort that out. I faked it but I knew I could do it.
"It was when I left the meeting, I realised that I had to expand. I had the mindset that I can do anything, and I had the right attitude.
"It was that night I drank a whole bottle of rosé wine and wrote my application for Dragons' Den.
"I knew I could do it," Kirsty confidently asserts.
It is a sentiment she encourages and instils in her friends, as many of them are starting their own businesses.
"Anything you want, you can go and achieve. You just have to work out how to do it."
Kirsty heard back quite quickly from the BBC production team, they loved the idea especially as Kirsty had listings and sales and that was what catapulted on the show in a couple of months.
Coming up the stairs, as it was then, was "terrifying, the scariest thing I have ever done."
"I remember it vividly.
"The scariest thing was seeing them sitting in front of me. But the easiest thing I found was presenting the facts. I knew everything from finance to invoicing, to almost creating the product in my small factory. Because of that, I knew the answers and it made it easier. That is why the pitch went as well as it did.
"I am quite stubborn. Before I went on the show, I had a feeling I was going to get either Peter Jones or Duncan Bannatyne, although Deborah Meaden was my favourite.
"When they both offered me a joint investment, I wanted to prove myself right and get both. I went to the back of the room to speak to the wall. It was a bizarre thing. The conversations you have in the own your head are quite often remarkable. It was a case of they are both the best, most well-known and successful.
"So, I was happy to give away the extra 5%"
Afterwards Kirsty explains it was like a massive whirlwind. Here was a single mother from Preston transported to an incredibly different world.
"I was going to London. Invited to parties and events, travelling first class, and finding chains such as Pret a Manger for the first time.
"It was surreal but an enjoyable experience."
Kirsty learned so much from the dragons. They were so varied in their experiences and offered her a lot of knowledge.
Eventually she bought the duo out.
The brand is now worth £15m, of chilled ready meals, frozen pizzas and frozen desserts which are always gluten & dairy free and are now stocked in every major supermarket in the UK.
The company has been growing and many of us across the north will have spotted Kirsty's new advert that has been airing on ITV since January.
"We had not done anything at this level before and although the brand has been growing year-on-year, we were at the point that we are very well-known in the 'Free From' range, which is mainly gluten, vegan and soya free.
"We needed to increase our profile in the mass market or mainstream and when we got offered this amazing deal by ITV, we went for it. ITV matched our funding and we got superb slots during TV adverts during The Chase, Corrie, Ant & Dec's Saturday Takeaway, some of the best shows on TV.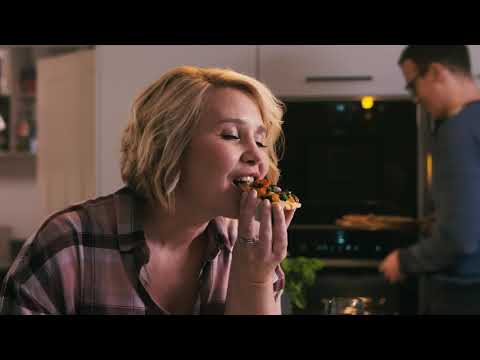 "We would never have been able to afford that normally but because of Covid they offered us a deal and we snapped their hands off, investing nearly all our marketing budget."
The 30 second advert, which features Kirsty in a camo role was worth £500,000 airtime value.
The strategy is proving successful as last March has been the heaviest month. Kirsty explained that it was really to raise brand profile and in April the team will carry out a brand survey.
At the moment Kirsty lives in Cheshire and spends four days in Harrogate. She is a succour for the countryside and when the site came up in Harrogate with the added bonus of working in a beautiful area with exceptional and excellent staff to recruit she made her investment to move into the new factory.
Kirsty now employs 42 people and sources all her ingredients locally although snow peas can be challenging and has to go to Argentina for those.
The allergen free Harrogate site enables Kirsty to expand. "There are huge growth opportunities here and we are only utilising 30% of our capacity and so there will be some strategic partnerships over the next 12 months."
Now she is producing 7million meals a year and that will increase to 20m next year. Her bestselling products are a cottage and apple pie both No1 sellers in in their fields and a Margherita pizza which is No 2.
"We will be stabilising everything we do getting it better. As with any start up business there are teething problems, so we are ironing those out linking up with new partners either private labels or other brands but predominantly growing to double to size over the next 2 years."
I ask about her son who is just over 15 years old. He too, is very entrepreneurial and will probably go to chef school as he is obsessed with nutrition and fitness.
If he is as determined as his mother then he will go far,
"I don't like to sound negative, but I've gone from single mum in an unaffluent area, from a poor background where often it is hard to break out of that and not a lot of us can do that.
""I was determined and passionate and I care massively about my staff. Coming from my background having nothing makes you appreciate everything you do have.
"I am grateful and everyday I try and do things better as this is all I have; I love it bits and want to nurture it and get it right.
"I suffered from a lack of confidence and finding my inner confidence and belief in myself was part of my growth. I had nothing to lose.
"I would love to help people through mentoring one-on-one, I would be happy to give back as I have benefitted a lot from what people have given to me over the years. "
Now that's an offer some budding entrepreneur would be wise to take up.