arts
Weekend Interview: Eurovision Hopefuls Intelligent Music Project
In a series of interviews running up to Eurovision our Arts Correspondent Jeremy Williams-Chalmers talks to some hoping to win. This weekend Jeremy speaks with Intelligent Music Project.

Founded in 2012, Intelligent Music Project is a musical supergroup founded by Bulgarian businessman Milen Vrabevski. Fronted by Chilean rock icon Ronnie Romero, the group is building towards of their seventh studio album and are making a stop at Eurovision 2022 to
showcase the album's single Intention. With a rock act already wearing the Eurovision crown, can the Intelligent Music Project take their place in May?
We caught up with the group to find out a little more
about their Eurovision ambitions.
Hi, first and foremost, how are you?
We feel great and very excited about the upcoming adventure, called Eurovision.
What an exciting 2022 so far... You must be thrilled with how it's playing out. What's been the highlight?
So many things happened during our preparation for the contest and the promotion of the song! The highlights are definitely related to our live shows and the meetings with the fans. We had our own tour in March, visiting some of the big European cities - we started in Sofia,
then Amsterdam, Brussels, Paris, we met with some friends and ESC fans in Thessaloniki. Right after that we joined some of the pre-parties - in London, Tel Aviv and Amsterdam for a second time. It was amazing to
see so many people enjoying Intention. There were a lot of people that knew the song and sang with us. We also met a lot of the other contestants, with some of them we became really close friends - with the Moldovians, with Mia from Croatia, with Sam from the UK. They are
really great people and amazing performers.
We absolutely love Intention. Tell us a little about the process behind the scenes in creating the song?

Intention is part of our upcoming album which will be released in the summer, probably July. The album's name is
Unconditioned.
Here is something interesting that the media don't pay attention to so far.
Behind the drums in the Intention recording and the whole upcoming album is Simon Phillips from the bands TOTO and Protocol - probably the best drummer nowadays. He is also a music co-producer of the song
and the whole
Unconditioned
album. It is a big treasure to have such a legendary musician in our team. Besides that,
Intention
speaks of the personal struggle in our thoughts and minds to break free from old patterns of belief and behavior that hold us back. As of the very title we want to emphasize a very simple fact – It's never too late to set foot on the right path – the path of growth, dignified existence, and life with a mission. The shadow you are chased by is actually your
former you. Turn your back on the ego and selfishness and start living for the people around you… But change often means a strong internal battle, within your soul... Even a war with yourself. If the better part of you wins, you feel free & happy! And the freer you feel, the
farther you walk away from real life. A paradox at first glance, but the environment you're in is not meant to make you happy by default. The sense of freedom and happiness is a state of mind that you teach yourself to prevail in your thoughts. It is the result of a meaningful
everyday usefulness. So, find deep within yourself the inner signals of the incomparable feeling of happiness, the sense of freedom, and spiritual satisfaction with existence. For all this to happen you need a strong intention.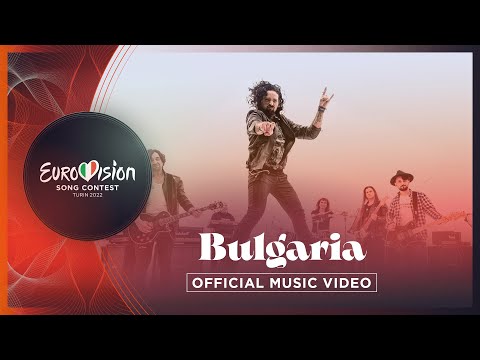 If you had to file it between two other songs, what would they be and why...
Between
I Know
and
Yesterdays That Mattered
from Intelligent Music Project.
You are on countdown to Eurovision. How are preparations going?

It is very interesting, because as a rock band we usually don't have to think that much for choreography, cameras, special styling etc. we just go on stage and do what we do best - play rock and roll and make the people in front of us have fun and enjoy. Now it's different, because before all ESC is a TV show. Our audience will be mainly the cameras and the people behind the TV. This is new for us, now we have
to be very careful with our moves on stage, to learn the positions of the cameras and that kind of interesting things. But we have an amazing team behind us, who takes care of everything to be on a world class level.
How are you finding the pre-parties?
As we mentioned, we were in London, Tel Aviv and Amsterdam and it was really a lot of fun!
You are getting to see your competition up close, who have you been getting along with best?

Talked about this in one of the previous questions. We could add that we really love Konstrakta from Serbia. She even sent us video greeting while we were in Serbia the other day to promote Intention. You can see it on our Facebook page.
Who do you feel is your stiffest competition?
No one. Because we're not there to compete with anybody. All of the contestants are great performers and we respect them very much. Our goal in the contest is to show our music and our messages to as many
people as possible. Eurovision is one of the biggest musical events in the world and to be there and play in front of so many people is a big success itself.
What can we expect from your Turin performance?

A great rock show with a lot of energy.
We really hope there is more music coming soon. Have you got a follow up single ready?

Yes! And it's coming sooner than you expect. We will release a new single from the upcoming album in the beginning of May - just in a couple of days. It's a very beautiful ballad, called
New Hero
. And
you're the first media we are sharing this information with.
And lastly, aside from Eurovision, what other 2022 plans do you have?

During the summer we will release the 7th Intelligent Music Project album, named
Unconditioned
with lead vocalist Ronnie Romero (Rainbow) and Simon Phillips (TOTO, Protocol) as a music co-producer
and drummer. In August and September we will do a tour to promote the album.