12:49 PM 27th December 2020
family
Winter Sword Dance Performances Cancelled For First Time In Over 100 Years
One of the country's oldest folk dance teams cancelled its traditional Boxing Day performances due to the Coronavirus pandemic.
The Handsworth Sword Dancers have performed their traditional Yorkshire 'longsword' dance every Boxing Day at Woodhouse Cross and Handsworth Church since 1963, continuing a much older tradition of dancing in midwinter dating back to the 1800s. The performances, which also include a traditional mummers play and renditions of some of Sheffield's unique carols, attract hundreds of spectators and are a key part of many local peoples' Boxing Day.
But this year the team were unable to perform due to Coronavirus restrictions which have prevented them, and the hundreds of other folk dance teams around the country, from practising or performing in public since March.
The nature of the dance means dancers are always within one metre (the length of the swords used) from each other, making socially-distanced practice or performance impossible.
Instead, the team compiled a special video of past performances, including footage of the team dancing all the way back to 1925; recent performances at an international festival in Belgium; and past Boxing Days at Woodhouse and Handsworth. The film was launched at 12pm Boxing Day to mark the time the team should have been performing outside Handsworth Church.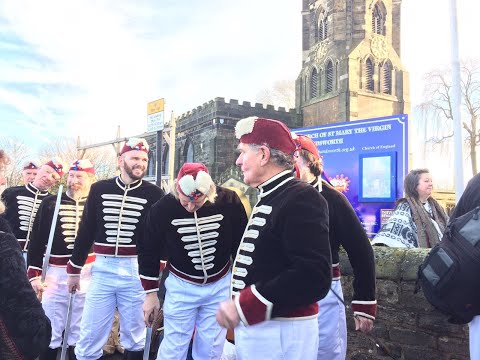 Simon Brock, Dance Captain of the Handsworth Sword Dancers, said:
"In a year that has seen so much sadness for so many, we realise this is far from being the worst thing to happen. Nevertheless, we know our Boxing Day performances are a big part of many peoples' festive traditions, so it was hugely disappointing not to have been able to perform the Handsworth Sword Dance in its home villages - something which was not even stopped by two world wars!
"We've done a lot of research into the history of the men who have worn the Handsworth jacket with pride over the years, and we know that the team was always at the heart of the community. We would love to see some new local men - and women - at our practices when they are allowed to resume to help keep this cherished local tradition alive."