Andrew Palmer
Group Editor
1:00 AM 20th November 2023
arts
Review
World Music: Koum Tara Baraaim El-louz
Koum Tara Baraaim El-louz 'The Buds Of The Almond Tree'

Kifech Nensa; Corona Chitana; Ana Aandi Qalb; Houria; Khayef Allah; Cheh Ya Qalbi; Istikhbar Raml Maya; Wach Aadabni; Zidane
Koum Tara
Karim Maurice artistic direction, arrangements, piano, keyboards, intratonal carillon
Hamidou (Mohamed Hamam) voice, algerian mandole, banjo, derbouka, bendir
Brice Berrerd double bass
Kamal Mazouni cajón, derbouka, bendir, percussion
Gaël Rassaert violin
Mathieu Schmaltz violin
Clément Sozanski viola
Amandine Lefèvre cello

Label: Odradek Records. Catalogue: ODRCD710
Algerian chaâbi, jazz music
https://www.odradek-records.com/
This hypnotic album explores the heritage and different cultures of traditional chaabi poetry which it fuses with Western classical music (string quartet) and contemporary jazz.
Immediately, the music takes over, with a mesmerising percussive beat, that transports the listener to North Africa with its distinctive sound and rhythmic pulse. The eight-piece set uses an assortment of instruments, predominantly keyboards, string quartet, Algerian mandole, which is like an elongated mandolin
and percussion.
It is an engaging sound that compels the listener to get up and dance. This is my first encounter with Koum Tara, and I was taken with the pulse and the mix of different types of instrumentation associated with the region. The different cultural styles are subtle, with a freshness and inventiveness that have been creatively blended.

Koum Tara is directed by the "avant-garde genius" of Karim Maurice, the vocals of Algerian singer Mohamed Hamam, aka Hamidou, and the free-flowing string quartet La Camerata's string orchestra. The string playing is excellent, especially at the start of
Ana Aandi Qalb
.
Two stand out tracs were
Istikhbar Raml Maya
using traditional instruments coupled with Hamidou's great vocals and
Zidane
which would make an excellent opening to a film; it is captivating and draws the mind into a haunting soundscape, one that is rich, sonorous, and lyrical.
I will certainly be following the progress of KoumTara especially since this is the second release, the planning for which came together during the lockdowns of 2020. I was engrossed by the notes about the band.
Trees grow in their own time, and buds appear when they are ready. French-Algerian from Lyon, Koum Tara, released
Baraaim El-Louz,
which translates from Arabic as 'The Buds of the Almond Tree' as a meld of Algerian chaâbi and jazz that all rotates around the powerful axis of exceptional jazz pianist and album producer, Karim Maurice.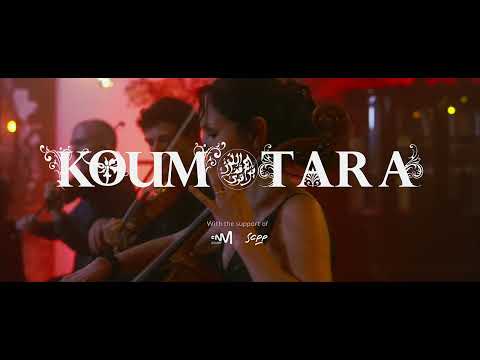 'Koum Tara' as well as the album title
Baraaim El-Louz
both take their names from poems written by the 18th-century Algerian poet, Mohamed Bendebbah. 'Koum Tara' translates as 'come and see', while
Baraaim El-Louz
is a poem about fresh beginnings.
"The buds of the almond tree was a line from the poem, which is an invitation to admire spring, its renewal, and its continuity. Renewal, because the group, with its new singer, has come up with original compositions and texts that attempt to open up new horizons for modern chaâbi".
A revelation.