cars
From Canoes And Beds To Metal Sheds - The Shed-loads Of Items Found On Our Busiest Roads
Camera footage warns of the dangers posed by unsecured loads
Shed-loads of items found on busiest roads - from bicycles and roof boxes to a four-poster bed
Highways England urges drivers to make sure loads are safely secured
A four-poster bed, a canoe and a bike – all items you'd expect to find in a home…. except these were all found on the side of some of the country's busiest roads. 
Highways England traffic officers have revealed some of the unusual  loads that they have come across and the danger they have caused after falling onto the motorway.  
More than 46,000 items were found on England's motorways and major A roads over just 10 months, 8,982 of which were in Yorkshire and the North East, 9,271 of which were in the North West. Highways England traffic officers in the regions have dealt with everything from a canoe and four-poster bed, to box-van and a metal shed, ship's mast and garden sheds.
With the summer staycation fast approaching, there will be many more drivers with loads such as bikes and roof boxes strapped to their vehicles. So today Highways England is urging all drivers to make sure their loads are safely secured before they set off.
Apart from leaving the owners out of pocket and maybe without a tent for their camping trip, these items pose a big safety risk for other people on the road including the traffic officers who help clear them up. 
Highways England Traffic Officers experience first-hand the range of items found on England's motorways and the impact they can have on drivers. 
On-Road Team Manager Jon Hammerton, who patrols roads in West Yorkshire, said:
"I personally have dealt with bicycles, a canoe, a fully assembled four-poster bed, a metal shed, and many other weird objects. Often people buy items on social media market places and then the buyer turns up to collect it in a small car, with no trailer, and simply ties it to the roof hoping for the best.
"Shed loads can close a road for several hours as well as putting people at risk. You must secure your load before you set out. It could prevent an accident and save lives." 
Traffic officer Nick Ainsworth from West Yorkshire added:
"I once had the entire rear of a box-van on the A1(M). It was huge. It was still intact but ended up on its side on the hard shoulder and we had to get a recovery truck to remove it."
While On-Road Team Manager Rob Frost, who is based in South Yorkshire, said:  
"We have had fence panels, a shed, tools, tool boxes, motorcycle bags and top boxes – the whole contents of one family's top box was spread all over three lanes of the M62 as they were returning from holiday."
Other items that traffic officers have had to deal with include a complete set of garden furniture on the M1 in South Yorkshire, which took four officers to remove.
Most incidents on the network are on the A1(M) and M62, followed by the M1, M18 and A1. And it is the summer months which see more items dropped on the carriageway. 
Camera footage captured the moment a piece of metal struck a road worker on the M6 after it came off a passing HGV and hit his leg. He was working on the central reservation as part of the upgrade of the motorway between junctions 13 and 15  in Staffordshire  when hurt. Fortunately he did not suffer any serious injuries or broken bones.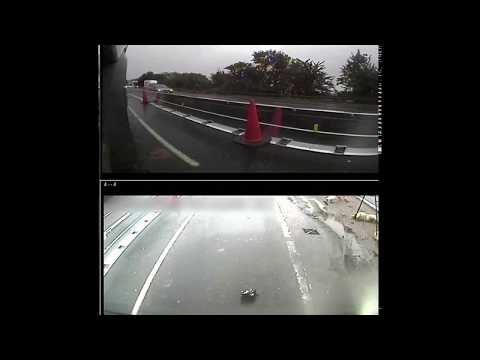 Highways England figures show that there were more than 3,000  items on the carriageway of the M62 between June 2019 and April 2020 and 6,000 items on the carriageway of the M6 in the same period.
The most items dropped on motorways were building or construction materials, followed by  vehicle parts or accessories then household or garden items.
The RAC, Road Haulage Association and Freight Transport Association are supporting Highways England's calls for drivers to check their vehicles, trailers and loads before setting off on journeys.
Ben Aldous, RAC patrol of the year, said:
"Just a few minutes spent making sure things like bikes, roofboxes and caravans are completely secure, and then double-checking them can make the difference between a trouble-free journey and one that puts people's lives at risk as well as causes long delays for other travellers. We'd ask everyone checks loads at the same time as looking at things like tyre tread and pressure, and oil and coolant levels. The more care drivers take before setting out, the smoother their journeys."
Chris Yarsley, Policy Manager from the Freight Transport Association, said:
"Paying close attention to load security must be a primary concern for all drivers using our roads and we would advise the public to check their vehicles closely before departure, in the same way that logistics operators conduct a daily walk round check before starting work to ensure everything is safe and secure. Transporting a secure load not only keeps others on the road safe but also ensures that vehicles and loads arrive on time, without incident, which is the primary aim of all our members and their customers."
Tom Cotton, Policy and Infrastructure Manager for the RHA, said:
"As well as a safety concern, the recovery of items from the road network can cause congestion and delays, the RHA considers it's really important to take steps to make sure vehicle loads are secure."
Journey planning advice, including making sure vehicles are ready for the road, can be found here:
https://www.think.gov.uk/campaign/vehicle-safety-checks/
Advice on securing loads is available here:
https://www.gov.uk/government/publications/load-securing-vehicle-operator-guidance/load-securing-vehicle-operator-guidance